Open-top Dumpster Rentals
Make your job easier
Contento's provides roll-off container services throughout Cortland, Tompkins, and Surrounding Counties for construction projects, short-term clean-outs, and scrap metal processing. Please keep in mind that container may not always be available right away, especially during peak operating months.
We require a deposit, which will be placed on a credit card to hold a reservation. The deposit will be pulled the day before delivery in case you need to reschedule or cancel for any reason. If you go over your deposit, you will be charged for the remaining amount.
Commercial Customers – please call our offices for availability and specialty pricing based on your project needs. In addition to the containers listed below we offer larger containers, enclosed, containers, walking floors, and dump trucks that may be of use to you. Let us be your one stop shop!
Residential Customers – we provide 10yd, 20yd, and 30yd containers at a flat rate fee. All rentals are for 5 days, include a certain amount of tonnage based on size and fuel surcharge. Additional days are $15.00 per day. Additional tonnage is $90.00 per ton. There is a $50.00 charge for any delivery outside of our 15-mile radius.
10-YARD CONTAINER – $440.00
1 Ton of Debris
Rental of 5 Days
Fuel Surcharge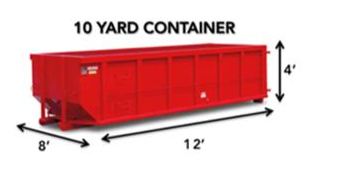 20-YARD CONTAINER – $550.00
2 Ton of Debris
Rental of 5 Days
Fuel Surcharge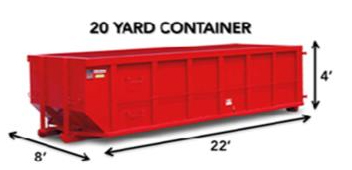 30-YARD CONTAINER – $600.00
2.5 Ton of Debris
Rental of 5 Days
Fuel Surcharge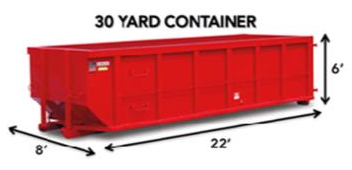 UNACCEPTABLE MATERIALS:

 
Industrial Waste
Medical, Hazardous, or Toxic Wastes
Septic or Sewage Sludge
Anything Liquid (Paints or stains MUST be dried out)
Municipal Bulbs or their Fixtures
Florescent Bulbs or their Fixtures
Aerosol Cans or Propane Tanks (Nothing Under Pressure)
Air Conditioners, Refrigerators, Dehumidifiers that have not been properly drained of their coolant
Tires & Electronics (TV, Computers)
These items will result in an extra charge if found in your container. The landfill charges us triple fees for excessive amounts for cardboard, glass, and plastic. 
**All metal may be brought into our yard separate from the trash container, unless you are utilizing a container for only scrap metal. 
This list may not be exhaustive. If you have a question about an item, please call our office. We are happy to answer any questions you might have.
SCALE HOUSE - Located directly behind main office through gate.
MAILING ADDRESS - Contento's P.O. Box 588 Cortland.