SCALE SERVICE
QUALITY SCRAP METAL DISPOSAL

 
The CONTENTO'S New York State certified scale is open from 7:00 am to 3:30 pm Monday through Friday. We are open to anyone needing to dispose of ferrous and non-ferrous metals. 
We also weigh trucks and trailers for a small fee. 
WHEN BRINGING METAL INTO THE YARD:
Simply pull onto our scale to be weighed in
Wait for our signal, pull off and head into the yard
Our staff will help you get in, out, and on your way (special/smaller metals will be weighed separately out back by our staff)
CONTENTO'S staff will help you off-load, if you require assistance. If you have a larger item that needs to be removed by one of our machines, please sign a waiver in our office before leaving the scale
Go back over the scale to weigh out
Park and come into the office with your ID for payment
WHILE CONTENTO'S ACCEPTS MOST FERROUS AND NON-FERROUS ITEMS, THERE ARE CERTAIN ITEMS WE CANNOT ACCEPT:
Tires
Computers
Monitors
Electronics
Televisions
This list may be incomplete. If you think an item is questionable, please ask us! We are happy to help.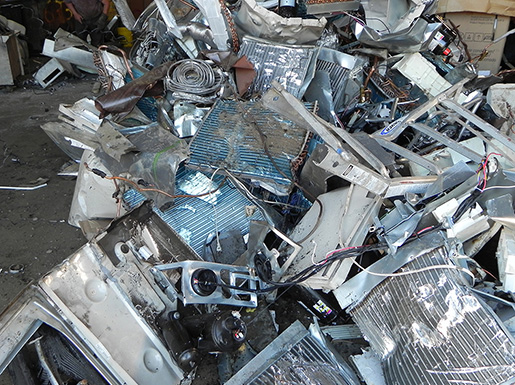 THE SAFETY OF OUR CUSTOMERS AND EMPLOYEES IS OUR HIGHEST PRIORITY AT CONTENTO'S. SOME THINGS TO REMEMBER WHILE ON OUR SITE: 
The speed limit is 5mph
Please DO NOT block the window facing our scales
Use the same courtesy on the scale as you would at an intersection with two-way stop signs: alternating sides enter the scale, one in-bound, one out-bound
Watch for pedestrians, heavy equipment, and other motor vehicles
Protect your hands and feet
Use extra care when backing up and dumping material
WE WANT YOUR METAL!

 
CONTENTO'S PROCESSES & RECYCLES YOUR METAL

 
CONTENTO'S collects, processes, and recycles ferrous and non-ferrous metals. To get a better understanding of the difference between these two metals we have provided brief descriptions of each below. 
FERROUS METAL: 
Ferrous metals are those that contain iron. They can be a mixture of other metals or elements, but all ferrous materials contain some form of iron, which give them a magnetic quality and make them prone to corrosion. Ferrous metals include many types of steel and cast iron. 
NON-FERROUS METAL: 
Non-ferrous metals are the opposite of ferrous – they don't contain any iron. They will not have a magnetic quality and typically resist corrosion much better than ferrous metals. The category of non-ferrous metals also includes raw materials – pure metals. Aluminum, copper, aluminum alloys, lead, and gilding metals are all considered non-ferrous metals. 
WE ACCEPT: 
Appliances including Fridges, AC units, and Dehumidifiers
Brass
Catalytic Converters
Aluminum Wheels
Batteries
Alternators
Starters
Engines
Electric Motors
Stainless Steel
Transmissions
Radiators
Aluminum
Copper
Brake Rotors
Tin Steel
WE DON'T ACCEPT: 
Tires
Computers
Monitors
Electronics
Televisions
GIVE US A CALL
Please call our offices if you have any questions on what we will take for scrap. We are always happy to help you!
FULLY INSURED & BONDED
We are covered to protect you. When accidents happen the right things can be done.
ONLY THE BEST SERVICE
We pride ourselves on delivering high quality service to all of our clients.
VETERAN EXPERIENCE
Our employees are proven workers able to tackle projects ranging from a few thousand dollars to over 1 million.
Containers, Demolition, and Scrapping in CNY
Serving Cortland, NY & Surrounding Areas