SCALE SERVICE
CONTENTO'S operates a NYS certified scale. Our scale is open to both commercial and private vehicles. We can provide you with your gross vehicle weight, DMV weight (car or trailer), or military move. (Small fee applies) 
WE WANT YOUR METAL

!
CONTENTO'S collects, processes, and recycles ferrous and non-ferrous metals. To get a better understanding of the difference between these two metals we have provided brief descriptions of each below. 
FERROUS METALS – are those that contain iron. They can be a mixture of other metals or elements, but all ferrous materials contain some form of iron, which give them a magnetic quality and make them prone to corrosion. Ferrous metals include many types of steel and cast iron. 
NON-FERROUS METALS – are the opposite of ferrous – they don't contain any iron. They will not have a magnetic quality and typically resist corrosion much better than ferrous metals. The category of non-ferrous metals also includes raw materials – pure metals. Aluminum, copper, aluminum alloys, lead, and gilding metals are all considered non-ferrous metals.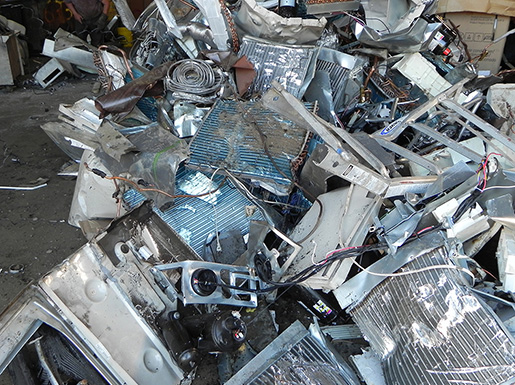 WE ACCEPT: 
Appliances including Fridges, AC units, and Dehumidifiers
Brass
Catalytic Converters
Aluminum Wheels
Batteries
Alternators
Starters
Engines
Electric Motors
Stainless Steel
Transmissions
Radiators
Aluminum
Copper
Brake Rotors
Tin Steel
WE DON'T ACCEPT: 
Tires
Computers
Monitors
Electronics
Televisions
CALL US
If you have any questions on what we will take for scrap or need current pricing. We are always happy to help you!
SCALE HOUSE - Located directly behind main office through gate.
MAILING ADDRESS - Contento's P.O. Box 588 Cortland.